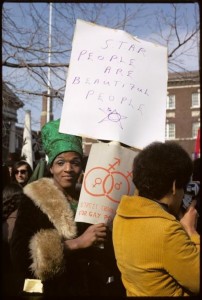 Whether it knows it or not, the current LGBT movement owes a huge debt to this hirstory created by a long legacy of people who identified as drag queens, drag kings, transvestites, cross dressers, genderqueer and those who move between and evolve their language for their gender identity and gender expression in ways that are confrontational, provocative and humor filled.
Since the early days following Stonewall LGBT organizations like the Gay Activist Alliance (GAA) and Lesbian Feminist Liberation began championing the assimilation imperative, believing that if the law -in their case the anti-discrimination bill Intro 475- said good things about gays and lesbians then they would be free. The effects of this strategy were felt most violently by the people who couldn't or wouldn't assimilate into the white professional gay image of these organizations. In an interview with Bob Kohler, Marsha described her experience going to one of GAA's meetings:
I went to GAA one time and everybody turned around and looked…they weren't friendly at all. It's just typical. They're not used to seeing transvestites in female attire…When they see me or Sylvia come in, they just turn around and they look hard.
The assimilation imperative became so overwhelming that trans people were kicked off the protected identities list in the anti-discrimination bill in hopes that it would pass New York City Council more quickly. As Sylvia put it in an 1992 interview with Randy Wicker on the Christopher Street Pier, Marsha P Johnson, Bubbles Rose Marie, and other street queens catalyzed the movement for gay liberation only to be violently kicked out & exiled "when drag queens were no longer needed in the movement!" This violence continues today through the historical erasure of the many contributions of Sylvia & Marsha, sex workers, homeless people, people of color and poor trans people from the riots at Stonewall.
Also, tomorrow: The New Black takes viewers into the pews, onto the streets, and provides a seat at the kitchen table as it tells the story of the historic fight to win marriage equality in Maryland, charting the evolution of this divisive issue within the black community.
The post film discussion will focus on how the Black LGBTQ community finds spiritual healing in Seattle.